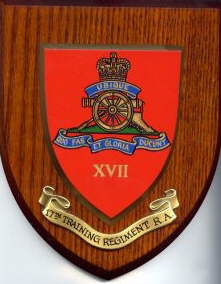 17th Training Regt R.A
Woolwich SE.18
History
The first two permanent companies of artillery were formed in 1716 at Woolwich.
The story of artillery goes back to pre-Roman times when slings, catapults and ballistas
were used to project missiles.Later, longbows propelled arrows both as direct and indirect fire.
The English first used guns in battle alongside longbows at Crécy in 1346.
Since then it has used them in almost every war and campaign it has fought throughout the world,
but it was almost four hundred years before a permanent force of artillery was formed.
In peacetime, guns were kept in castles and were looked after by Master Gunners,
skilled in their manfacture and so most knowledgeable in their use.
In wartime, men were recruited and trained into a Trayne of Artillery,
until on 26 May 1716 the first two Companies of Artillery were formed by Royal Warrant at
Woolwich.
THE CAP BADGE
The guns of the Royal Artillery are the Regiment's Colours,
in the same way that the flags and guidons of infantry regiments are theirs,
leading them into battle.
The Colours represent pride in the Regiment, so the guns are protected and retained at all costs.
If the situation demands that they are left behind they must be disabled or destroyed.
The gun depicted on the cap badge is a 9pdr Rifled Muzzle Loader of about 1871, and the rammer
used to ram the charge into the muzzle is also seen,
to the left of the carriage wheel. A gun of this type can be seen in Firepower.
Ubique, surmounting the gun, means "Everywhere", and the Motto below Quo Fas et Gloria Ducunt,
"Where right and glory lead us"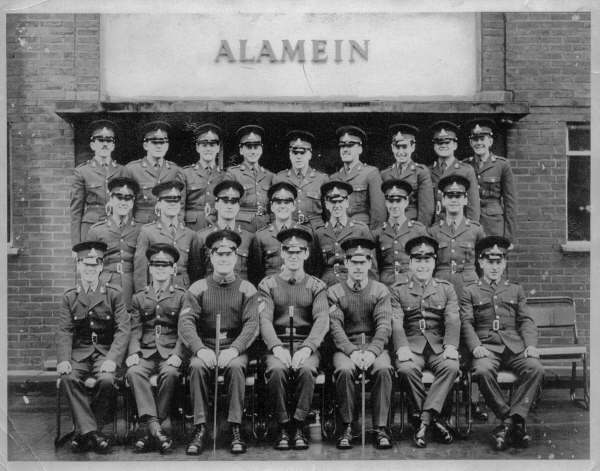 Phill Perry in Training 1971-1972

B SECTION ALAMEIN TROOP NOV 1971

Left to Right

BACK Mick Moorland, Pat Henassy, Geof Southall, Peter Hammond,

Chris Butler, Jock Wright, Gary Falon, Peter Hartburn, Chris Collins.

MIDDLE Steve Thompson, Les Gash, Richie Malley, Tommy Ryan, Kevin Jones,

Jim Waddle, Peter Harris.

FRONT John Gorrie, Phill Perry, Bdr John Horwell, Sgt Fox, Bdr Paul Jackson

Vincent Kaminski, Les Williams.

POSTED TO 24 MISSILE REGIMENT.

Les Gash, Jim Waddle, Phill Perry.